Los Angeles Times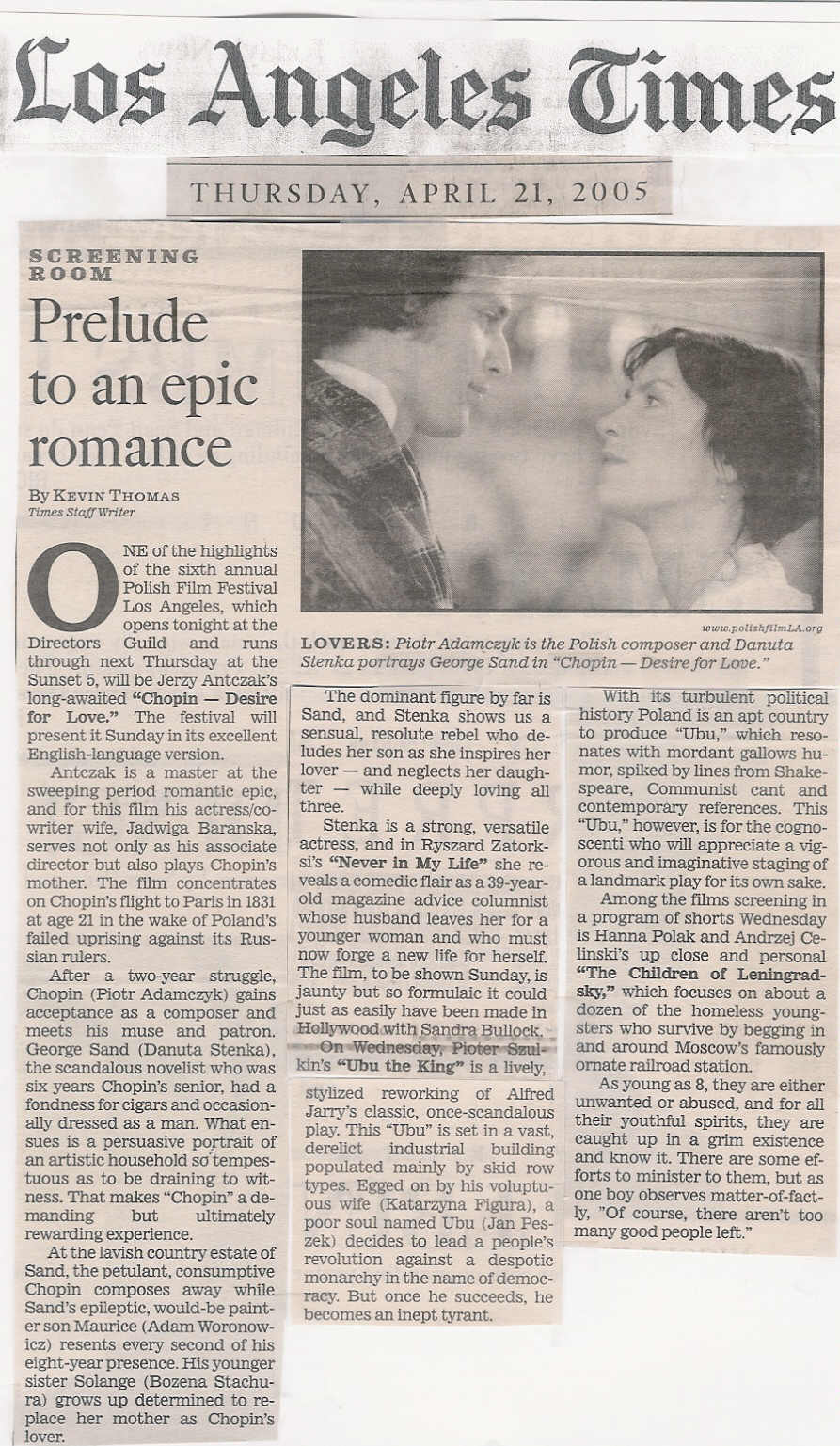 CHOPIN FILM AFTERMATH


by Wanda Wilk


I was fortunate to be invited to the special screening of Polish director Jerzy Antczak's film, "Desire for Love." The film was presented at the Director's Guild of America as the highlight of the celebration of Poland's Independence Day sponsored by the Polish Consulate in Los Angeles. In last month's issue of News of Polonia, Theresa M. Dudzik gave a full account of the event along with a favorable review of the film about Chopin.

I, too, agree that the film was "beautiful to look at and listen to." The scenery was superb, the costumes magnificent and the luxurious background of the home interiors in the Paris circles in which Chopin moved about was elegantly displayed. The selection of music done personally by Jerzy Antczak was the best, although most any Chopin music would do. However, his selection was the best of the best! He also employed some of the best talents of our time to perform this great immortal music. Among them: pianists Jerzy Olejniczak, Emanuel Ax and Yukio Yokoyama; cellist Yo-Yo Ma; violinists Vadim Brodski and Pamela Frank, with music orchestration by Wojciech Gogolewski, Jerzy Maksymiuk and Henryk Kuzniak.

Theresa Dudzik mentioned at the end of her article that an, "audience of Polish Americans were accustomed to a kind of mystique surrounding Chopin," and I can relate to this. As an American of Polish heritage I was brought up on the Hollywood version of the 1945 movie, "A Song to Remember," which also dealt with the "torrid, decade long affair" of George Sand and Fryderyk Chopin. Merle Oberon played the part of the French novelist while Cornel Wilde portrayed Chopin.

Even though I knew that Chopin had a short, sad life and that his relationship with Sand broke up before he died, I had built up a glamorous version of this "great love story" between the two. Only natural, when even today, a theatre review in the Patriotic Ledger of July, 2003 describes the play "Romantique" as "one of the world's great romances that took place in the nineteenth century between composer F. Chopin and novelist George Sand, a cross-dressing feminist born Amandine Aurore Lucie Dupin."

According to the Blockbuster web-site, Columbia Pictures and director Charles Vidor produced, "one of the most successful filmed biographies of the 1940s, `A Song to Remember,' which alleges to be the true story of Polish composer Fryderyk Chopin. Actually, it has about as much relation to the truth as a Heckle & Jeckle cartoon, but with such gorgeous creatures as Cornel Wilde and Merle Oberon in the leads, who cares?"

Director Jerzy Antczak presented a more factual film in "Desire for Love." When the film ended my reaction was how true was this film, for I didn't remember some of the details of the problems between Chopin and Sand's children. I remembered that her daughter had developed a girlish infatuation for him but I didn't remember the antagonism from Sand's son and also the jealousy scene from a former lover.

I immediately looked into a book I had at home, "Chopin in Paris" by Tad Szulc. This book was based primarily on the correspondence of Chopin, his family and friends. In fact the author wrote to me in 1995 inquiring about several books that he needed for his research, but couldn't find and we had them in our Polish Music Center library. I am happy to say that Mr. Szulc acknowledges this in his book on page 426: "In Los Angeles, Wanda Wilk, Founder and Honorary President of the Polish Music Reference Center at the School of Music at the University of Southern California, rendered me the vital courtesy of loaning - for much longer than she thought at first - the volumes of Chopin's Polish Language correspondence and other literary materials without which my book could not have been written. My profound thanks go to Mrs. Wilk and the Center."

Mr. Szulc showed his gratitude again in 1997 by donating his research material to the Polish Music Center. It consisted of 26 books on Chopin, over 20 journals and over 50 articles, mostly from Ruch Muzyczny, which helped him write the book and which he no longer needed.

So, I am now reading more carefully the award-winning writer's "first definitive English language biography of Chopin," as it is described on the book cover. I now better understand the meaning of the title, "Desire for Love." The endless search for love by the characters in the film, whether manifested in the maternal love and care that "Aurore" gave to "Fryderyk" or by the son, who yearns for and is jealous of his mother's love for Chopin, there was a great need for love on all sides.

According to a press conference at the 6th Shanghai International Film Festival, the director wanted to "tell the audience that human beings should understand each other and should understand that everyone needs love."

This is the reality of life that Academy nominated director Jerzy Antczak was able to show in his film. He also was able to portray Chopin's love and longing for his family and country. A most poignant part of the film, to me, was his reminiscence of a Christmas Eve of long ago with his family in front of a Christmas tree singing "O gwiazdeczko cos blyszczala" (O star, so brightly shining) with a specially effective moment when the voices trail off and only Chopin's mother's voice continues. Very heart-wrenching! Chopin's mother was lovingly portrayed by the director's wife, Jadwiga Baranska.

I also learned from the Chinese film festival web-site that, as a Chopin fan, Antczak spent twenty years writing the screenplay with his wife, after reading many books on Chopin. Writer, director, and producer Jerzy Antczak began his career as an actor, graduating from the famous Theater Academy in Lodz in 1956. He moved to Warsaw in 1963 where he was Chief Director and later Head of the Polish TV Masterpiece Theater. He came to the U.S. and began teaching at the Film School at UCLA in 1985 as a tenured professor.

He is the recipient of many awards for his many films, especially for "Nights and Days," which received a nomination for an Academy Award in the Best Foreign Language Category in 1977. This Polish film has been dubbed into Italian, French, German, Spanish and was given English subtitles.

Yes, the early 1945 Hollywood film left us with a highly glamorized version of a love story between two prominent people. However, it also had several positive effects. The film gave pianist, "Liberace inspiration for his candelabra sitting on the piano." Liberace also owned, among a total of 29 pianos, the Pleyel piano that was used in the 1945 film. You can see it in the Liberace Museum in Las Vegas or on the web-site.

The movie was a money maker for the studio. Fifteen years later Columbia tried again with a movie about Franz Liszt, titled, "A Song Without End," but the magic just wasn't there. Some tid-bits about "A Song to Remember" you may or may not know: Jose Iturbi was the behind-the-scenes pianist for Cornel Wilde. Iturbi's recording of the Polonaise in Ab from this film sold over a million copies. A song version based on the Polonaise was written by Buddy Kaye and Ted Mossman and the lyrics went like this: "Till the end of time, Long as stars are in the blue, Long as there's a spring, a bird to sing, I'll go on loving you."

Another song used in this movie was "No Other Love," which was adapted from Chopin's Etude in E major by Bob Russell and Paul Weston and published by Walt Disney Music Co. The words here are "No other love can warm my heart now that I've known the comfort of your arms. No other love. Oh! the sweet contentment that I find with you ev'rytime, ev'rytime!" With songs like this no wonder I always thought this was the greatest love story ever!

Jerzy Antczak's film, "Desire For Love" has already been awarded the "Platinum Award" (the highest award) for Best Drama and the "Gold" for the Best Cinematography at the Houston Film Festival in April 2003. We are looking forward to seeing it nominated for an Academy Award next.